About Us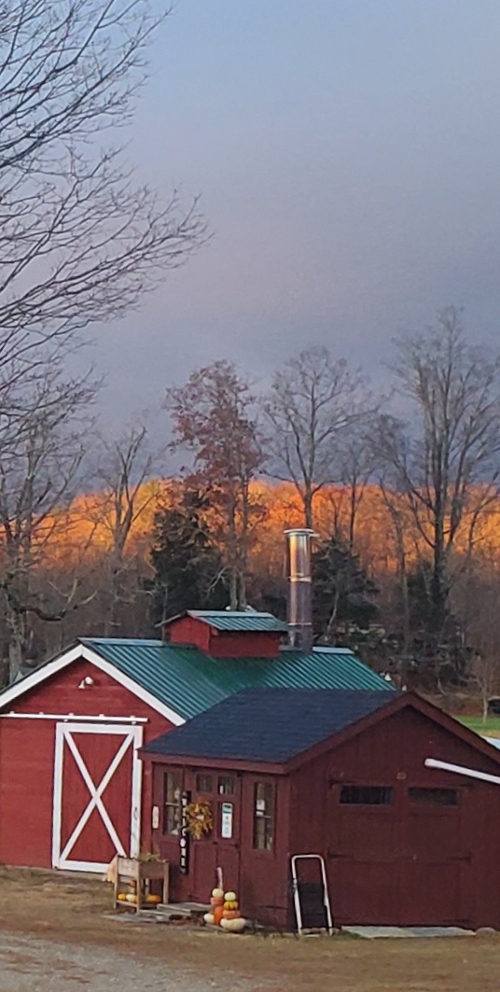 UPDATE: After much thought and consideration we have decided to retire. Our last day of business was August 14th, 2021, and we have sold our building that housed the Strawbale Cafe. Our closing took place on October 14th. Thank you to all that have supported us throughout our 16 years operating the Breakfast Cafe.
Maple Syrup will still be available from our farm. If needed just call us at 413-527-0710 to be sure that we are available before driving out.
Only the Strawbale Cafe is being discontinued but be assured that Hanging Mountain Farm will go on as usual and we will continue to make maple syrup every spring. If you have a gift card or certificate from the Strawbale Cafe you are welcome to use it to purchase our maple syrup.
This decision has not been an easy one with the pandemic and all. When the pandemic hit, our business took a huge hit and actually became non-existent. It happened just at the beginning of sugaring, so like so many other producers we did not have a maple syrup season since everyone was shut down and not allowed to do business.
Breakfast is not a take out item, although we had a few that really tried to support us even during those very difficult times. It just was not enough to keep us going so we took to offering Pizza, which did very well through the winter, but so much had to be put into this new venture, such as lights to light your way in the darkness, and supplies that were needed just to operate a Pizza business. We accommodated everything we had to in order to change our venue. It still wasn't enough to stop the struggle we were in so we had to make some hard decisions and the biggest one was to retire.
So we hope that all of our faithful customers understand our decision and pass the word along to those that are not on Facebook, that we are saying goodbye to our Cafe, but that our farm will continue on and our yummy maple syrup will still be available.
We are looking forward to this new chapter in our life and look forward to spending much more time with our family. Thank you for everything that you all gave us over the years and we look forward to seeing some of you when we are out and about doing whatever. THANKS EVERYONE!!!!
Welcome to the Strawbale Café here at Hanging Mountain Farms. Hanging Mountain Farm has been in the Aloisi family for 3 generations, starting with Leo's father, who worked here on the farm in the 1930's as a teenager. He purchased the farm, when it was still a working dairy farm back in 1947, from C. G. Loud. Leo and his three brothers were all raised and worked on the dairy farm, until the cattle were sold in 1971 when Leo, the youngest, enlisted in the Army.
Leo purchased the farm, from his father, with his wife, Anita, and their two daughters in 1983. Their daughter's, Jennifer & Missa were 5 & 7 when they moved to the farm from Enfield, Connecticut. The years have passed quickly and now the girls are grown, and are undertaking projects to bring the farm into the world of Agritourism.
A Straw Bale Structure
Our youngest daughter, is the architect who designed and built the Strawbale Café structure. It took nearly 4 1/2 years to build with the help of many volunteers, including John & Angela Callahan, Elaine Katz, Dick Loomis, Nick Tambone, Alan Singer, and many many others who donated their weekends from time to time. We could not have done this amazing project without the help of all the volunteers and family members. We are truly indebted to all of them.
Of course the family has played a big part in building the Strawbale Café. Anita (the cook) did most of the mud mixture on the inside walls, while the rest of the family, friends, and volunteers did the outside. The walls are made of straw bales, which are then covered in an earthen plaster (clay/water/sand/and chopped straw). This is put directly onto the straw bales, and then natural clay paint is applied. These walls are considered living walls, so the material that was used to build them was natural and specially formulated for the straw bale walls.
Our family consist of two children and five grandchildren.
Straw bales are different from hay bales, since straw bales are composed of the tubular shaft of grain bearing grasses and has no seeds, nutrients, or foreign matter that hay bales usually do. Hay bales are feed to animals, where as straw bales are used for bedding, & insulation as is shown in this building.
Behind the carving on the wall (hand carved by Matt Lesko) near the exit door is our truth window. Opening the doors will reveal that the walls are indeed made entirely out of straw bales. Every three rows of bales are stacked and then compressed with high-tension plastic straps tied around them to squeeze them together so that they will be more airtight. This building would sustain only water damage if it were to ever catch fire, since there is not enough oxygen in the walls for them to burn, as in a conventional construction.
Our sugarhouse is no longer open to the public, since the spring of 2019 and no breakfast is offered. The original sugar house is located on the cafe property, that has been sold to new owners. Please be aware and be respectful that the property that had the cafe is no longer ours.
Our plans are to build a new sugarhouse, in front of the house, where the old garage is currently located. This is in the planning stages so stay tuned for when it will happen and be complete.
We still make maple syrup privately during the spring so that we can continue to bring you our fresh maple syrup sold in our gift shop.
We hope you enjoy your visit to our farm. Ask any questions you may have about this uniquely wonderfully built building. Enjoy a walk on our property, where it is not posted, or along North Road, either before or after your meal. We thank you for being respectful of our home and our property, by not going beyond the cafe's outdoor patio, or out back of the Cafe (septic system is in place there), and dangerous to children, we hope you will come back soon and often.
We welcome your thoughts, & feedback about our undertaking here, so please feel free to share them will all of us. We want you to be happy with your visit and your meal. Thanks.